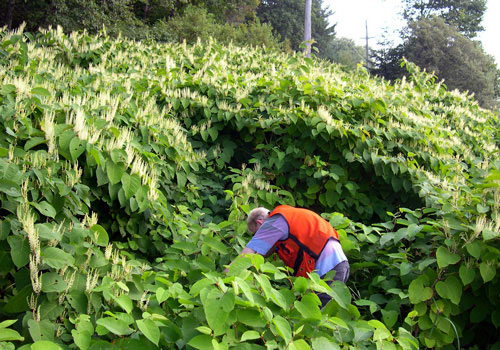 A thicket of Japanese knotweed. Citation: Tom Heutte, USDA Forest Service, www.invasives.org

BACKGROUND
Japanese knotweed (Polygonum cuspidatum Sieb. & Zucc.), a member of the buckwheat family, was introduced into the U.S. from Eastern Asia (Japan, China, Korea) as an ornamental on estates in the late-1800s. It has also been used as an erosion control plant. By the mid-1890s, it was reported near Philadelphia, PA, Schenectady, NY, and in New Jersey. Although once sold through seed and plant catalogs, by the late-1930s knotweed was already being viewed as a problematic pest. The plant, which can grow from three to 15 feet tall, has bamboo-like stems and is sometimes called Japanese bamboo. As with many invasive plants, knotweed thrives in disturbed areas and once established can spread rapidly, creating monoculture stands that threaten native plant communities. Japanese knotweed can tolerate deep shade, high temperatures, high soil salinity and drought. It is commonly found along streams and rivers, in low-lying areas, disturbed areas such as rights-of-way, and around old home and farmsteads.

Click this link for additional information about Japanese Knotweed, a New York Invasive Species.