The emerald ash borer is an invasive beetle that threatens the Adirondacks' natural resources and tourism industry, and can harm forests, stream corridors, hiking trails, and agriculture. The emerald ash borer attacks only ash trees, but it can infest and kill all of the varieties of native ash trees in New York.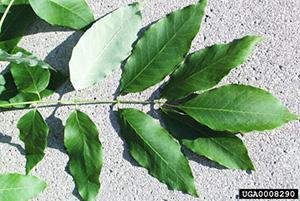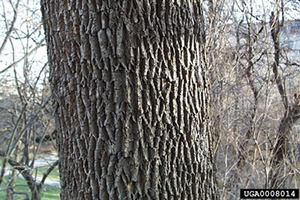 ash tree leaves ash tree bark
What is it?
The Emerald Ash Borer, commonly referred to as "EAB", is an invasive wood-boring beetle. Emerald ash borers feed on and eventually kill all native ash trees. This is a very small but very destructive beetle. The adult beetle has a shiny emerald green body with a coppery red or purple abdomen. Adults are roughly 3/8 to 5/8 inch long with metallic green wing covers and a coppery red or purple abdomen.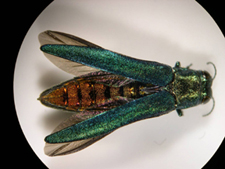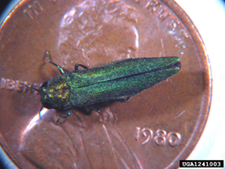 Why is it bad?
Ecologic damage
The adult beetles nibble on ash foliage but cause little damage. The larvae (the immature stage) feed on the inner bark of ash trees, disrupting the tree's ability to transport water and nutrients.
Slowing their spread is imperative.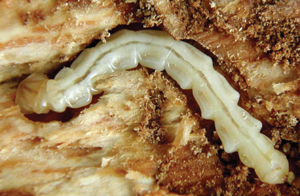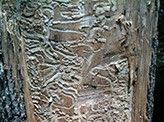 Signs of infection include tree canopy dieback, yellowing, and browning of leaves. Most trees die within 2 to 4 years of becoming infested. The emerald ash borer is responsible for the destruction of over 50 million ash trees in the U.S.
Ash is a very common street tree in many New York communities. It was widely planted to replace native elms lost to Dutch elm disease. Many communities have had to remove thousands of dead ash trees on streets and in yards. Many of these dead trees pose significant public safety hazards and liability problems for municipalities.
Ash is also a common and valuable forest species. Ash seeds are a food source for birds and mammals. Ash species comprise almost 8% of all trees in New York State.
Economic damage
Since its discovery in the United States, EAB has:
· Killed millions of ash trees in North America.
· Caused regulatory agencies and the USDA to enforce quarantines and fines to prevent potentially infested ash trees, logs or hardwood firewood from moving out of areas where EAB occurs.
· Cost municipalities, property owners, nursery operators and forest products industries hundreds of millions of dollars.
Ash is a commercially-valuable species, and is used for baseball bats, flooring, furniture, lumber, and pallet manufacture. Also, ash wood has traditionally been used for Adirondack pack baskets and other wood-weaving projects.
How does this invasive species spread to new areas?
Native to Asia, the beetle's first North American populations were confirmed in 2002 in Michigan. EAB was likely introduced to the area in ash wood used for shipping pallets and packing materials in cargo ships or shipping containers.
By 2018, the beetle was found in 35 states and 5 Canadian provinces. As of the spring of 2021, EAB has been confirmed in all New York counties except: Essex, Hamilton, Lewis, and Washington.
Adult EABs typically fly less than ½ mile from their emergence tree. Most long-distance movement of EAB has been directly traced to ash firewood or ash nursery stock.
What can be done to help prevent introducing this pest to our area?
Invasive insects are often transported from one area to another in firewood. New York state has a law that firewood cannot be brought into New York from elsewhere, and firewood cannot be moved more than 50 miles from where it is grown. As a very general rule of thumb, 50 miles is too far, and 10 miles or less is best.
This DEC website has information on firewood and invasive pests:
https://www.dec.ny.gov/animals/28722.html
How to Report a Sighting
If you think you have found EAB and you are outside of the counties known to already have infestation areas in New York State, you can report the information to the Department of Environmental Conservation (DEC):
1. Take photos of the insect and/or signs of damage.
2. Email photos and location information to foresthealth@DEC.NY.gov.
DEC can then add the new location to their infestation map. You may also call DEC's Forest Health information line at 1-866-640-0652.
Signs of infestation in the tree canopy include dieback, yellowing, and browning of leaves. Increased woodpecker activity is often the first sign of an EAB infestation. This activity can lead to "blonding", or large strips of bark falling off. On the trunk and branches, look for small, D-shaped holes that are left by emerging beetles. When the tree's bark splits or falls off, S-shaped larval galleries may be visible, as shown in the photo above. Most trees die within 2 to 4 years of becoming infested.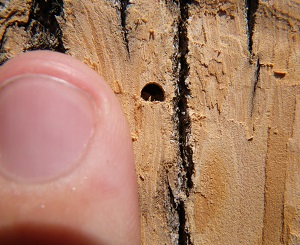 Management of Emerald Ash Borer
As with any invasive species, the best method of control is PREVENTION. Limiting the movement of firewood and ash nursery plants will help slow the spread of this invasive species.
At this time, insecticides and chemical biotreatments are being researched, but their effectiveness is still not known. DEC provides some options for woodland management to minimize EAB impacts: https://www.dec.ny.gov/docs/lands_forests_pdf/eabmgmtoptions.pdf
More information is available at these websites:
Cornell University Cooperative Extension - Emerald Ash Borer
http://www.emeraldashborer.info
Hamilton County Soil & Water Conservation District – Emerald Ash Borer